Kingsland, Texas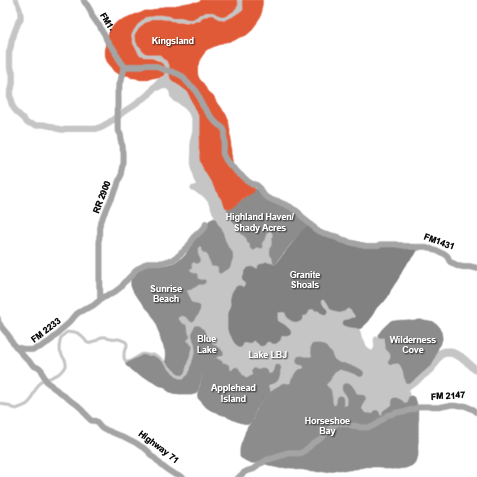 Location:
Kingsland is located about 50 miles northwest of Austin and 10 miles away from Marble Falls, Texas.
About:
The town is situated at the point in which the Colorado and the Llano rivers come together to form Lake Lyndon B. Johnson (Lake LBJ). The real estate on Lake LBJ is very different from that of other parts of Lake LBJ in that it has a more "river like" setting; typically we see more vegetation and tall trees.
"The Slab" is a favorite Kingsland location where the road traverses the clear Llano River as it crosses under and around granite slabs and boulders. Residents and tourists come t enjoy the clear water running over the granite rocks.
Kingsland is also known for it's 1901 Victorian style Antlers Hotel, an old railroad resort that has been fully restored and repurposed as a boutique hotel, with the Junction House Restaurant in Queen Anne architecture and a historic railroad district. The house where The Texas Chainsaw Massacre was filmed is located in Kingsland and has been restored as a restaurant.
Kingsland Listings
x
Share this search with a friend