Horseshoe Bay, Texas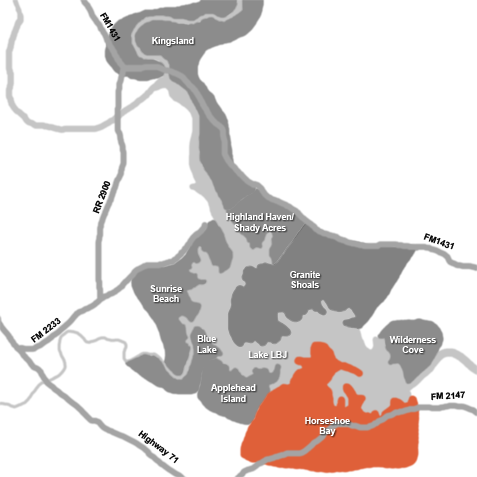 Location:
Horseshoe Bay is located in both Burnet County and Llano County on the southern shore of Lake Lyndon B. Johnson (Lake LBJ). This is about 23 miles southeast of Llano and 42 miles northwest of Austin .
About:
The land, now called Horseshoe Bay was a ranch developed by cousins Wayne and Norman Hurd. Development of this lakeshore resort began 1972. The name was given after one of the developers, Wayne Herd, discovered an old horseshoe in the lake when the water levels were lowered During the next two decades the community grew to serve primarily retirees and resort-goers. Many of the homes served as second homes.
Horseshoe Bay, Texas was incorporated in 2005 when residents elected the first mayor and city council. This Texas gem offers some fabulous recreational amenities including three eighteen-hole golf courses, a hotel, a marina, and a yacht club.
Horseshoe Bay Listings
x
Share this search with a friend